Hello, all! After I got my excitingdramaticlifechanging haircut the other day, I kinda went on a manic raid of the Target makeup aisle. I needed clear mascara for my brows, so I got two of those, then two nude lipsticks because I had a coupon, then a palette from Pacifica because it…uh…had pretty packaging.
Also blotting sheets. You guessed it, two of 'em.
Whoopsies.
Anywho, the palette is not the greatest quality I've ever had, but it's not bad at all, and for 4 large pans for $12, I'll take it.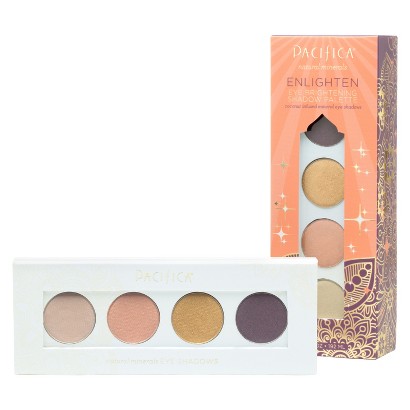 In this MOTD I have the first shimmery shade as an inner corner highlight, the second shimmery shade as a lid color, and the gold and plum on the outer part of the lid and along the lower lashline. The gold had the worst color payoff, but the rest were surprisingly pigmented. They could all benefit from a sticky base, but lazy.
I supplemented the palette with a few mattes from the Lorac Pro 2, because you can't forgo them matte blending shades.
Not impressing myself with that liquid liner application. I must've been in a hurry or something. It was 5:30 AM, after all. *bangs head against wall, in a Dobby-esque fashion*
Why are all my neutral looks exactly the same??? Why??????
 Eep. Still excited about this hair.
Products used:
Eyes
♦ Pacifica Enlighten Eye Brightening Palette
♦ Lorac Pro Palette 2: Buff, Nectar
♦ Physicians Formula Eye Booster
♦ L'Oreal Voluminous Miss Manga Mascara
Lips
♦ e.l.f. Essential Lip Stain in Berry Blush
Face
♦ Rimmel Stay Matte Powder in Silky Beige
♦ NYX Powder Blush in Taupe
Shoot me a comment if you enjoyed this look or if you have any suggestions for future tutorials, reviews, and tags; I'd love to hear them!
Olive
–

Follow me around! I post a bunch of blog previews and other neat junk.
♦ Instagram @eyehavealotoffeelings
♦ Twitter @olivesfeelings